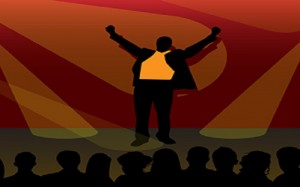 Being a keynote speaker can be quite a tough job. A keynote speaker has to persuade people to think differently, motivate them to accept change, steer them towards action, put in simple words, he has to bring the audience out of their comfort zone which is always tough. Whether it's a product launch, a business meeting or a motivational seminar, a keynote speaker should be able to convey the message efficiently, that too without boring the audience. That is why big speakers charge in excess of $15,000 for a single conference, because single-handedly they can steer your event towards success. After all what's the point of spending thousands of dollars for a  conference which doesn't excite the audience or fails to bring any change.
To take his point across a keynote speaker first has to form a ground connect with the audience, he has to understand what problems the audience are facing and how he can bring about the change. Sometimes real life stories need to be told while sometimes simple motivational techniques are explained. He has to set the tone of the event right from the start and lay a common goal for everyone to agree before the event proceeds. Since you can't accept a single conference of 60 minutes to change the problems people are addressing, a keynote speaker's other job is to present the audience with tools and exercises that can steer them towards positivity long after he/she is gone. These are some of the ways in which a keynote speaker adds value to your event:
Propel the audience to action: Great speakers have this habit of propelling people into action. They form an emotional connect with the audience and motivate them to start practicing their teachings right from day one. That is why whenever you see people exiting a great seminar you can see them all charged up and smiling.
Convey the need to change: This is the most important aspect of any speaker's job, conveying the need to change. A good keynote speaker shows the audience how good their life can be if they accept these personal and professional changes. He/she uses examples and real stories to show how pure will power can turn your life around for the good.
Guidelines for the future: What after the keynote speaker is gone, what if the audience loses motivation again? For this very reason great speakers give the audience booklets or e-books that have all the principles for success. All one has to do is practice these principles daily and success would be theirs for sure.
Make it humorous: All work and no play can be very boring indeed. A great way to measure an event's success is to see how entertaining it was. Great speakers make sure that their teachings are put across in the most humorous way possible, a ploy that they have mastered.
Summary
Events are a great way for companies and organizations to put their message across to their intended audience. Whether it be a product launch or a performance meeting, companies need great speakers to add value to their event, speakers that can transfer the message inside the hearts of the people. That is why a good keynote speaker can really transform an event towards success while a bad one can send your event into the bin. A great speaker first understands the problems people are facing and forms a ground connect with them so that they can feel comfortable. Afterwards, his job is divided into three simple steps a)convey why change is good for the audience using examples b) motivate them to take action and c) teach them skills and methods that can keep this positivity going long after he/she is gone. A great way to judge whether your event was a success or not is to see the faces of people exiting the seminar, if they are all excited and smiling, it means your speaker was efficient and worth every penny.